Quotes
"A combination of fragile songs, hushed moments, powerful rock and driving rhythms."
Daan de Mooy, LiveXS, 2012
"Perspective shows where About Today excells in; uplifting rock with dissonant guitars and a good feel for dynamics. I'm allready curious about their next release."
Chris Dietzel, Festivalinfo, 2012
"The demo of About Today is a typical case of 'wanting to hear more'."
Niels-Jan, Speaker, 2011
The Bio
About Today play Alternative Rock, based on rich harmonies, beautiful melodies, bold dynamics and a lot of energy. Their music flirts with Postrock, Grunge and even Progressive elements without losing touch with what is important, making real songs. The lineup of guitar, baritone guitar and drums creates an intricate sound, which is complemented in a number of songs with bowed guitar, close harmony vocals and special effects.
Although their musical tastes are all over the place, you'll probably hear influences from bands like And So I Watch You From Afar, The Joy Formidable, Foals and closer to home, Moss. 3voor12 Zuid Holland labeled About Today as "Death Cab For Cutie on steroids".
About Today recently shared the stages in the Netherlands with bands such as The Deaf, A Silent Express and the Handsome Poets.
About Today are an ambitious, energetic and experienced band, playing festivals and venues nation-wide.
Downloads
Single Release
On friday the 10th of May About Today released their single 'Pollyanna' and the accompanying music-video.
The single was recorded at the Linden Studios. The music-video was produced by Margarita Kouvatsou (Screamread) and Nina Spiering (executive producer on 'Elephants' by Blaudzun).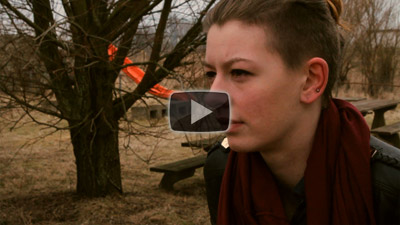 Pollyanna tells a story of blind optimism, which in the video is represented by Bob Kreder (Dutch Champion Trial) and Pip Steinkamp.
Pollyanna is available through Bandcamp, iTunes and Spotify.